I am a huge fan of iPads AND Chromebooks. I think both can be integrated purposefully into the classroom in ways that are very powerful to the learning experience. Both devices can accomplish almost any form of masterful technology integration, boost critical thinking, and help to make student thinking visible. As many classrooms and teachers move between the two devices, they often struggle to find similar applications – to supplement the one they came to love on the opposite machine.
To help those teachers moving from an iPad to Chromebook, (like my friends in Sheriden, Wyoming) here are a few ways you can use the Chromebook to do some of the great things you've grown to love on an iPad.
When you get a Chromebook, you have the power of Google Apps for Education, in all its glory, right at your fingertips!  So Rejoice! You can now use Google in ways you could not with the iPad. You might be sad at first, but once you see the new power of  Google on a Chromebook, you will be so excited by the new possibilities.
If you love apps like Explain Everything and Book Creator on an iPad, here are some ideas to make the same type of product on a Chromebook.
Screencasting:
If you want a screencasting alternative on a Chromebook – try Screencastify a Chrome Extension that allows you to capture what is on your screen – at the same time – adding  an audio recording to accompany your work. You can use it with Google Drawing or PixiClip to get the same kind of writing or image manipulation you have come to love with iPad. '
I also love anything by TechSmith – and one amazing alternative they have for doing screencasting on a Chromebook is Snagit.  Snagit screen capture allows you to take an image or video of what you see on your computer screen. You can then add effects, and share it quickly and easily with anyone.
No matter which device you have at your disposal, you have the power needed  to make student thinking visible and to begin to truly understand each student as an individual learner.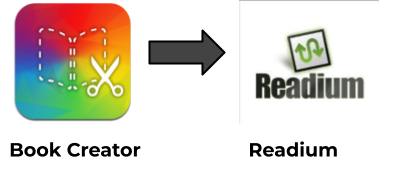 Making eBooks:
iPad teachers love Book Creator. While we wait for them to go web-based (fingers crossed)  you can try this – simply use a combo of Google Docs and Google Drawing. Then save the document as  a PDF and upload into something like Readium.com where students can read their compositions as an ebook. Or publish it to a Google Site…you will find a lot of power in this alternative.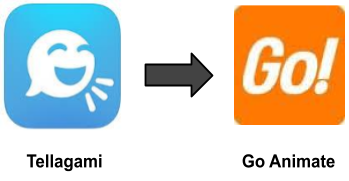 Recording Avatars:
Instead of Tellagami – think about Go Animate. A program that lets you have talking avatars and students can create a myriad of media activities.   One advantage of Go Animate is that you can have more than one avatar talking to another- explaining things like hyperboles or scientific concepts. Here is my favorite Go Animate about the Common Core: "I Choose C."
https://www.youtube.com/watch?v=dY2mRM4i6tY
As another alternative check out Voki.
---
Making Movies:
Do you love iMovie on the iPad? Me too, but WeVideo is one of my favorite Chrome Apps ever!  It is an easy to use video creation program. I find that students who can make iMovies quickly figure out the controls and navigation of WeVideo. The best part about WeVideo is that students can work together from different machines on the same movie – score one point for the collaborative classroom.
Formative Assessment:
Do you love Nearpod? Try two of my  favorite formative assessment tools,  Socrative and Geddit.  Both Geddit and  Socrative allow you to push out questions and gain information about student learning  to help assess and gauge where they are in the learning process. To learn more about these and other formative assessment tools perfect for a Chromebook classroom read 4 Powerful Formative Assessment Tools For The Chromebook Classroom. Think you will miss the presenting feature of near pod? Consider pushing out the slide decks via Google Slides.
Another great tool – that is still in beta –  and is very like Nearpod is Pear Deck. Pear Deck is an interactive presentation tool that works very well with Google Drive. Although still in beta, keep an eye out for this tool as it will soon prove to be an integral part of any Chromebook classroom.
In the end, the bottom line is that any good technology integration should be device agnostic. It is about having a solid  lesson, and then using the tech tools at your disposal to make it either more engaging, or to help students gain a solid  understanding of  the content. After all, it is not about the technology, it is about pedagogy.
Written for my friends in Sheridan, Wyoming.
Come learn more about Chromebooks at a GAFE Summit this year. The learning at the summits is mind-blowing  and there is bound to be one in a city near you!